Powertrain
Powertrain
PAI Powering Engines Since 1973.
For over 40 years PAI has been an aftermarket industry leader in supplying Powertrain, Engine, and Axel components.
PAI's Powertrain Components are designed, manufactured, and tested for optimum performance. Our rigorous quality processes assures the right fit, reliability, and durability you depend on so you can spend less time in the shop and more time getting work done.
---
PAI Engine Components
Powered by PAI High Performance.
PAI has the widest range of Engine Applications and Components in the aftermarket.
PAI's powertrain line includes block components (pistons, liners, rings, rods, bearings, gaskets, etc.), cylinder head components (heads, valves, guides, gaskets, exhaust gas recirculation (EGR), fuel injectors, etc.), intake/exhaust manifolds, turbochargers, accessory drives, and much more! At PAI, we focus our research and development (R&D) efforts to produce powertrain systems which are ever increasing in quality, reliability, performance, fuel efficiency, durability, and are eco-friendly.

We have launched our new High Performance Engine Component line, engineered to exceed industry standards for quality and performance. These components are designed using durable high-grade materials to maintain peak performance for miles and miles, guarantees better fuel economy, temperature stability, and overall longer life.

Detroit Diesel Applications: Series 50 / Series 53 / Series 60 / Series 71 / Series 92 / DD15
Mack/Volvo Applications: V8 Series / E6 Series / E7 Series / MP7, 8 Series / D11, 12, 13 Series
Caterpillar Applications: Series 3100, C7 / Series 3200 / Series 3300 / Series 3176, C9, 10, 11, 12, 13 / 3400 / 3406 E, C15,16,18 / Series 3500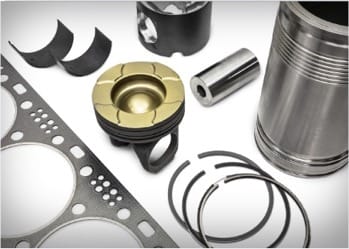 ---
PAI Transmission Components
Geared for Perfection.
American Engineered. 100% Roll Tested in the USA. PAI delivers the most reliable and durable Gear Sets, Drive Shafts, Differential Gears, Clutches plus more.
Thanks to PAI's wide breadth of transmission components you no longer have to shop around to get the parts you need to get the job done; we are your one-stop-shop for everything transmission. Plus, our commitment to US manufacturing, our active involvement in AGMA, and our culture of quality (ISO9000 Certified) ensures you can ride with confidence knowing your transmission is operating at peak performance.
---
PAI Axle Components
Smooth Performance.
Engineered to deliver performance you can rely on.
PAI uses high quality steel, meticulously controlled heat treatment, and precise machining to ensure proper fit and outstanding performance. Drive with confidence with PAI front and rear axles and axle components.